Anxious. Anxiety. Afraid. Aghast. Antsy.
Have you ever felt one of these emotions?
I have.  It is not a good feeling.
For the past month, I have walked along some rocky roads.  My mom passed away.  My grandson was in an accident that put him in ICU for 10 days.  And now he is in the next leg of his rocky road.  Along with him, is family, who are also walking on their rocky roads. Not knowing what is up around the bend.
I don't know how anyone survives these roads without Jesus. 
Our Scripture for today, is John 16:15-19.  Jesus has been talking with his faithful followers and telling them about the rocky road up ahead.  They are starting to get anxious.  They are not sure what he is talking about.  And Jesus knows and understands:
"Everything that belongs to the Father belongs to me—that's why I say that the Divine Encourager will receive what is mine and reveal it to you. Soon you won't see me any longer, but then, after a little while, you will see me in a new way." Some of the disciples asked each other, "What does he mean, 'Soon you won't see me,' and, 'A little while after that and you will see me in a new way'? And what does he mean, 'Because I'm going to my Father'?"  So they kept on repeating, "What's the meaning of 'a little while'? We have no clue what he's talking about!" Jesus knew what they were thinking, and it was obvious that they were anxious to ask him what he had meant. -John 16:15-19 (TPT)
In anxious moments, the best choice we can make, is to leave it with Jesus.  Let him take us through these "twinkling times."  Times that can feel like an eternity while we are floating in those scary moments.
As I am sitting here typing away, rocky road ice cream comes to mind.  Yep.  God has a sense of humor.  SO I must acknowledge this thought.  I love ice cream.  And at times, I desire "rocky road ice cream."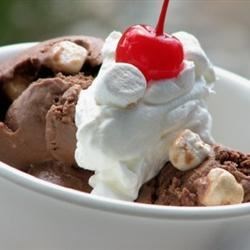 There are different ways to make this type of ice cream.  There is always chocolate.  And usually nuts and marshmallows too.  And what can make it a little different – some use vanilla ice cream –  chocolate ice cream – almonds – pecans – mint chips – cherries – whip cream.
It is the same with rocky roads that we find ourselves on at times.  Anxiety is always there.  Fear of the unknown.  And yet, each person will find different feelings mixed in with that.  It is the same and yet different.
BUT there is one addition to a rocky road that makes it easier.  And that would be Jesus.  Jesus.  Jesus.
My song.  A new one for me – but oh the words.  I pray that as you walk a rocky road today, that you will find comfort along the way.  May you feel the Presence of God.